Thursday, December 05, 2002

We went to go see El Vez last night. El Vez, the Latino Elvis impersonator. I was gonna write a big review of the show, but I realized pretty quickly that there is no describing El Vez. You just can't do it. You have to see him for yourself.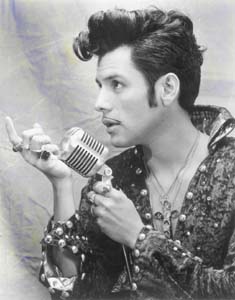 It was an incredible show.



there. I said it.| 10:05 AM
---


Wednesday, December 04, 2002

My hero is a musician that has never been able to make any money making music, yet he consistently churns out 2-3 albums a year. I am blessed.

On December 16th, I will be blessed once again.



Locket Full of Moonlight

Tracks:

1. Locket Full of Moonlight [4:03]
2. Shellshocked [5:25]
3. After The Glow [4:23]
4. Sweetness and Light [3:40]
5. Table For Two [4:35]
6. Overflow [3:59]
7. Jaws of Life [3:25]
8. Rearview Mirror [4:39]
9. Dirty Job [4:05]
10. Locket Full of Moonlight (Reprise) [4:24]

I've heard a couple of these live. Top notch as usual (especially Sweetness and Light)

there. I said it.| 6:23 PM
---


Tuesday, December 03, 2002

Come on, Jesus, give us our ball back . . .


there. I said it.| 2:08 PM
---